Manipulating Objects (e.g. swimming cells, quantum dots) by Micro Flow Feedback Control

Students: Mike Armani, Satej Chaudhary, Zach Cummins, Roland Probst
We precisely control the surrounding fluid to accurately trap and steer multiple particles. If the particle is to the West of its desired position, we create a flow to move it East, if it is to the North, we create a correcting South flow. Our control algorithms are sophisticated enough to create correcting flows at multiple locations at once. In the past we achieved 1 µm steering and trapping accuracy (this accuracy was set by the resolution of our optical system). Now we can do steering of single quantum dots to 84 nm accuracy. Control is also possible by other forces, e.g. by electrical or magnetic forces using the same idea – always apply a force to move the object from where it is towards where it should be.
For some of our more recent results see the following projects:
a: Steering and Trapping of Live Swimming Cells
b: Manipulation of Single Quantum Dots to Nanometer Precision
c: Flow Control of Object Positions and Orientations"

MOVIES
Below we show some movies that demonstrate our capabilities. For details on device fabrication, control algorithms, and capabilities, please see our published journal papers.

PHOTOS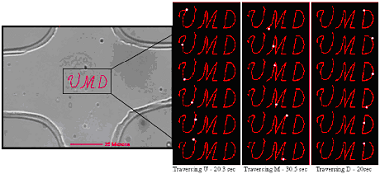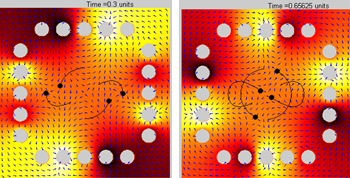 Experimental results for steering three yeast cells to one micron accuracy by electroosmotic flow control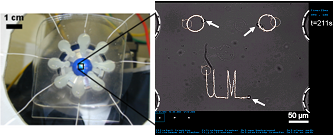 Left: PDMS microfluidic device with 8 control electrodes (one in each of the lightbulb shaped reservoirs). Right: Steering of 3 cells at once along two circles and a UMD path by electroosmotic flow control. White traces shows path of the cells, arrows show current cell locations. Can also trap 1 or 2 cells while steering the others.