c: Ferrofluid Control Experiments
Students: Zach Cummins, Arash Komaee, John Lin, Alek Nacev, Roland Probst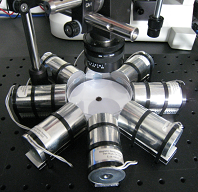 We have implemented a planar experimental test-bed to test our ferrofluid control designs. The experiment consists of dynamically controlled electromagnets surrounding a petri dish and observed by a camera (as shown left for 8 magnets).
Using this experiment we have achieved arbitrary control of a single drop of ferrofluid.

Movie