2DPCR for Spatially Mapping Genetics in Tissue Samples
Perform spatially resolved polymerase chain reaction (PCR) and reverse transcription-polymerase chain reaction (RT-PCR) on a silicon well micro-array to study genome and protein characteristics surrounding cancerous cells. (The micro array can provide spatial resolution to tens of microns and provides far richer information than the current PCR and agarose gel approach which tests DNA product for the entire sample.)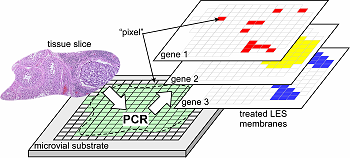 Spatially-resolved polymerase chain reaction (PCR, working) and reverse transcription-PCR (RT-PCR, next) on a silicon well micro-array wafer to study gene characteristics surrounding cancerous cells. Measure DNA products by stack of layered expression scanning (LES) membranes. Spatial resolution ~ 50 mm. Image courtesy of Elisabeth Smela.

(a) Have demonstrated PCR in KOH-etched silicon wafers.
(b) Zoom: each well is 500

m

m wide and has a truncated pyramid shape.
(c) Side-view SEM image of a DRIE-etched wafer with 50

m

m diameter round vials, not etched through.