Modeling/Control of Electrowetting Flows
Precision control of 2-phase micro flows actuated by electrically modified surface tension forces. Modeling is required to understand the basic physics and to create flow simulations appropriate for control design. Feedback control needed to handle uncertainties and allow robust operation of lab-on-a-chip EWOD systems.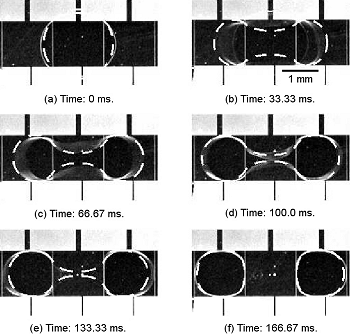 Liquid Splitting (top view): Simulation (dashed line)
vs Experiments (blurry line). [Exp courtesy UCLA].



We now have very sophisticated models that predict fluid dynamics in electrowetting systems. Our models include fluid dynamics, topology changes (droplet splitting and merging), saturation, hysteresis, and they numerically resolve a phenomenalogical model of contact line pinning (so they include interface pinning). Below are some example images and movies. For full details, see the masters and PhD thesis of Shawn Walker.

We have designed control algorithms to steer particles inside droplets using only the actuators that already exist in electrowetting systems. This demonstrates that feedback control of electrowetting can accomplish precision cell handling: steering, trapping, and sorting. So far, we have only implemented these control algorithms in our simulations. Below we are manipulating the liquid using only the 9 electrode pads to carry particles inside the fluid along their desired paths.


Designed control algorithms to steer single particles inside droplets by electrowetting actuation (verified in simulation)